Training Questions? Get Answers!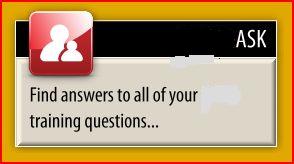 © For copyright of above picture

Do you have a question related to training? Are you wondering if the master trainer is right? Are you confused about the training process? Please submit your question below.
We strive to do our best in updating our knowledge and experience of the training industry. Please note that different master trainers or trainers treat the same situation or content differently, so all trainings might not give the best results.
Most training institutions and companies follow a general training style and a general way to train participants. However, there are many specific training areas and needs out there that are simply out of the ordinary. We will point that out when we believe this is the case.
We not only try to answer any training question but we try to also answer questions regarding materials, games, activities, training design and other related important subjects.
Some samplers of subjects that have been addressed are below:
Training design:
1. Half-hour Training
2. Leadership training
3. Diversity training
4. Training ESL Students
5. Communicating change to employees

Training Material:
1. Broken Squares

Training Activities / Games:
1. Self Esteem Activities
2. Self Concept Improvement
3. Inner Control of Influence
4. Indoor and Outdoor Games
5. Learning Business Analysis
6. Working under stress
7. Importance of standardisation
8. Demonstration of Leadership
9. Becoming an effective communication coach
10. Interpersonal Communication
11. Self discovery
12. Catching the chicken
13. Attitude development and Confidence building
14. Resolving conflict
15. Look at yourself
16. Difference between Experiential Learning and Active Learning
17. Time Management and Stress Management

Please submit your question by filling the form below.
Please remember that the effectiveness of this advice will depend on the implementer. The information given here is generalised for most trainings. Thank you.
Do You Have Any Training Questions?
Do you have a training question? Are you wondering if the master trainer is telling the truth? Are you confused about the training process? Please submit your training question below.

What Other Visitors Have Asked
Click below to see questions from other visitors to this page...