Leadership styles - Do you want to know your leadership style?
Leadership styles are styles that you - leaders - use in different situations to get work done by your people. People who have identified their styles have become more reflective about the task, the people incharge of the task and the most suitable style for that situation. You can consider this self-assessment tool a part of the learning games repertoire.
The situational leadership model was put forth by Paul Hersey and Kenneth Blanchard. It became popular as a way of trying to understand the kind of leadership that would lead to the increase productivity without sacrificing either task or people.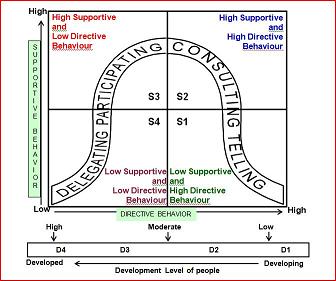 Hersey and Blanchard developed a self-assessment tool to be used in training for trainees to assess the range of their style, and adaptability.
The results from this tool helps trainees to learn about themselves as well as plot their growth path to increase their style range and improve adaptability.
Here's what others who used this service had to say.
Good Day Leena,

My team members were extremely happy about receiving their LEAD survey results. We decided to meet together to review the individual results and revise our individual action plans on what we each wanted to continue to do, stop doing and start doing as leaders. The self assessment has helped our leaders to understand the consequences when their leadership style does not match the readiness level of the follower. We have also developed a series of lunch-n-learn sessions where we can support each other with "real life work situations" in order to develop our ability to more accurately diagnose the followers readiness thus improving our ability to influence as leaders. Without the LEAD self assessment I do not think we could have had the true buy-in and understanding from the leaders into the Situational Model for leading others; it provided just the right amount of feedback to help us begin to implement positive changes in our leaders. It was clear, accurate and easy to understand.

Thank you for providing such a valuable service in such a timely manner !
Michelle Bollinger on 30th June 2009
Director, HR Development
INDIAN RIVER MEDICAL CENTER

Dear Leena,

Thanks for your report and error analysis - may I request a confirmation as i would like to use these situations as bench marks as I improve my leadership Style
I also would like to thank you for the effort taken to send me the additional info as below.


Regards


Vinisha, Singapore

...you provide with an interpretation - I found very helpful.

Thank you

Maura, USA

This Situational Leadership tool is given below for you to use and assess your own style range and adaptability score. This tool has been included in this site because self-assessment tools provide experience to learn new things about ourselves.

You will receive your leadership profile along with your scores for as low as $10. So go ahead and take advantage of this offer.
This kind of experience leads to decisions that are aimed at improving effectiveness at the workplace.
Mark the response that suits your reaction to a situation. Do not leave any question unattempted, if you would like your profile to be sent to you. Remember the tool can prove a great self learning game. It is a part of a repertoire of learning games for leadership.
Please fill in the personal data at the end of the leadership styles inventory, so that we can send you your profile.
---
Get your scores and profile by paying $10. Click here to make the payment via Paypal. Then come back and take the test. Your score and profile will be emailed to you within 24 to 48 hours.

If you have not already paid the fee, here's your chance to pay it.
Get your scores and profile by paying $10. Click here to make the payment via Paypal. 
Once you pay the fee, your score and profile will be emailed to you, after your responses have been analyzed. You will receive your score and profile within 24 to 48 hours.

---
Leadership Styles - Customer List and their countries of origin.
Here's a list of some satisfied customers:
Companies / Organisations
Indian River Medical Center
Continental Carbonic

Individuals
Denise, United States
Maura, United States
Olly Mae Knowles, Bahamas
Adam, Australia
Dianna, United States
Arapera, New Zealand
Vinisha, Singapore
Brande, United States
Arun, India
Gwen, United States
Ryan Evaristo, United States
Ali, United States
Martha, United States
Carol, United States
Joe, United States
Elisa, United States
Dee, United States
Dale, United States
Sally, United States
Timothy Howald, United States
Robin, United States
Randi, United States
Dawn, United States
D, United States
Andrew, United States
Vicki, United States
Richard Condon, United States
Cynthia, United States
Colleen, United States
Thomas, United States
Danielle, United States
Kelly, United States
Roseann, United States



Leadership Styles assessment is very useful to understand how people should be matched to situations before making the decision of how to lead them.


More additions to the above list:
Lori, Canada
Sam, United Kingdom
Kim, United States
Donald Pelham, United States
Todd Lochner, United States
Larry, United States
Derrick Helm, United States
Kat, New Zealand
Craig, United States
Dinesh, United Arab Emirates
Adarsh, India
Freddie, India
Bala, India
Aileen Zaballero, United States
Jacqui Campbell, Australia
Stuart Boundy, United Kingdom
Kat, New Zealand
Khalid Mohammed, United States
Karen Heys, Canada
Tam, United Kingdom
Kaye Picton, Australia
Susan Green, United States
Andy Stafford, United States
Dianna Montoya, United States
Jason Vanlee, United States
John Funk, United States
Mark Hatton, United States
Will, United States
Juan Garcia, United States
Scott McLain, United States
Aaron Batchelor, United States
Thomas Wasu, United States
Bet Culver, United States
Carol Edsox, United States
Glenn Hopkins, United States
Misty Holmes, United States
Rodney Wise, United States
Cory Hopkins, United States
Al Shams, United States

Leadership Styles Assessment tools can also be used by heads of organisation to know the leadership potential of it's staff, before making new role placement decisions.

-------------------------------
Also get a monthly e-zine 'Stories for EL' free for stories, training games and activities that you can use to emphasise experiential learning. Stories, experiences and their lessons are easily remembered.
They can also be used to communicate a concept effectively. They add the 'aha' or 'Eureka' or 'got it' factor to presentations and lectures. They are great tools to use in debriefs of training games and learning games, to drive home a crucial point.
Fill in the form below and subscribe to the free e-zine.
To find out more about learning games contact us
[This website makes money for me, even while I give you all the information on it for free. Surprised?!!! Don't be. Want to know more about making a website like this one or even a better one and making money from it? Find answers to your questions here .]