AQumen
by Rashmi Sharma
(India )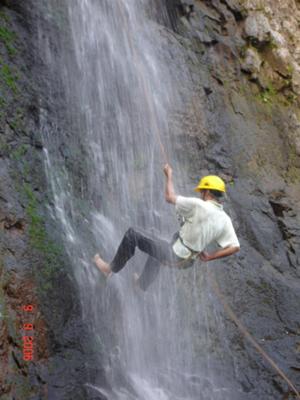 OBL-Rappling in the falls
WE are AQumen …..We bring acumen to YOUR Business
AQUMEN is an HR Solution Provider, AQumen solutions are business led, ensuring that we understand client business objectives and environments before offering solutions; assisting in the definition of strategy or working within existing strategies. Our solutions are aligned with client human resources, business strategies and objectives.
Our services include:
•Consultancy
•Corporate training (behavioral and skill specific)
•The Learning Center: English language classes,IELTS/TOEFL/GRE/SAT 'Overseas Education Advisory',BEC – Certified Course in Business English
•Brand management & Events
• Content writing: corporate brochures, reports, invites etc.
•Recruitment
•Back office operations related to HR industry: payroll management / Performance appraisals; Asset management

Our Associations for training Programs:
SIKKA (California); Thyssenkrupp Electrical; Keystone Appliances Pvt. Ltd; WNS Global Services; Fox Controls; Epcos India Pvt. Ltd Hindustan Coca Cola Beverages Ltd; Datamatics Technologies Ltd.Precision Auto Autocop –XS; Sterling Industries; KSB pumps Winjit Technologies; General Mills; Mahindra & Mahindra; Asian Electronics; BOSCH; San Computers; Sunny industries; Colgate Palmolive India; SAPKAL KnowledgeHub..... and many more

Unit Based Programmes (UBPs)
Corporate Communications Managerial Skills Development
Enhanced Social Skills Through Social Etiquettes
Business Etiquettes
Communicating For Effective Results Interview Skills
Communication Skills for Managers Personality Development
Effective Business Writing Skills Presentation Skills
English For Managers Public Speaking
English Speaking Basic & Advanced Business Writing
Change Management Worker Level- Work Culture & Attitude
Training for Managers as Facilitators
HR For Non-HR

WE SPECIALIZE IN TAILORING PROGRAMS TO SUIT YOUR NEEDS
Our Value Added Programs And Services Which Have Universal Applicability:
•Most popular program - OBL's – (Outward Bound Learning) out door activities including adventure sports; aimed towards personal empowerment. Can be suited to any category of workforce and can be designed to suit the needs of the moment.
•Provision for Mass Psychometric testing with quick test results.
•Assessment center for recruitment, selection, promotions, training needs etc.